Minneapolis Community and Technical College's campus is located on the edge of downtown Minneapolis. We offer affordable parking and can be accessed easily by public transportation.
Downtown Minneapolis (main campus)
1501 Hennepin Avenue S, Minneapolis, MN 55403, 612-659-6000
Public Transportation
Plan your trip to Minneapolis College using the trip planner from MetroTransit.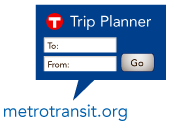 You may also check the MetroTransit website for information about their carpool program.
Nice Ride bicycles are available 24 hours a day, 7 days a week from April to November at various locations. All Nice Ride stations will be removed from the streets during the snowy winter months.